&nbspVENICE 2001 - Part One
The following TR was written by my cousin, Jeff Hagander. Jeff and his wife Lucia were spending 3+ months in Italy during Spring 2001. After a business meeting in Barcelona, I flew to Venice and met Jeff and Lucia and their son Paul. We spent three days together and had a great time! Since Jeff is the "King of TR's" this is a collaborative effort with Jeff's words and my photos.

Thursday, 10 May, 2001 - Venice, Italy
We woke up in Sirmione after a good night's sleep, and went down to breakfast. I guess we didn't get the message on the dress code because half of the people there were in white bathrobes. This is a terme (spa) area, and some people were already in the pool outside so I guess that is all right. I usually have a double Italian espresso in the morning and ordered one and had Paul, a non-coffee drinker, order me another. WOW! Those 4 cups really had me going this morning.

We checked out and hit the road, taking the Autostrada the 150 km to Venice. Parking on the 10th (and top - in the sun) floor of the huge garage at Piazzale Roma, just off the Grand Canal and next to the train station, we carried our bags to the water taxi and took it to the hotel, the Giorgione. He dropped us off only about 100 meters away, but overcharged us.

Our room wasn't ready and Kay wasn't due for another hour and a half, so we went for a walk. What a great place to walk. Along canals, over many of the bridges, through narrow streets, and along the tourist trails we meandered. We ended up in the Cannaregio area and passed the Ghetto and the synagogue before heading back to the hotel. Kay, my cousin from Philly, was there! She dropped her stuff and we went out to eat lunch and start our sightseeing.
Sempione was a cute Ristorante along one of the smaller canals and we had a pretty good lunch: I had cannelloni while Lucia had penne, Kay had fried shrimp and Paul had lasagna. We caught up on Kay's life; the "warehouse" is coming along, she has been in Barcelona for business, Mark bought a BMW! We almost fell over.

The streets kept twisting and turning and the signs to St Mark's Square often pointed in two opposite directions but we made it to the Square. What a place. Full of people enjoying themselves in the sunny day, pigeons all over (I couldn't get Paul to pose with them like I did here when he was about 5 years old), great buildings and of course St Mark's Church and the Campanile and the Doges Palace. Wow again.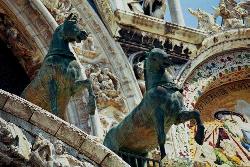 The four horses looked down on us as we admired the façade of St Mark's before going inside. There they had us follow a roped off path around the church; no deviations! But the mosaics (not as great as Ravenna), statues, decorations, pulpits, chapels etc make this one of the world's great churches. We had to pay to see the Pala d'Oro, in the apse behind the altar. It is a golden altarpiece dated about 5C.

Next door is the Doge's Palace and we went there to see the museums and attractions. We wandered through the luxurious apartments, looking at paintings and statues and collections. Then we went down to the prison and crossed the Bridge of Sighs. I wouldn't want to be in prison there!

Our Doge ticket included the Correr Museum about the history of Venice. Since it is located at the other end of the Piazza we went there today too. Walking there we passed the Caffe Florian, there since 1720, and now with a 5 piece music ensemble playing classical music for their tables in the Piazza. The Correr itself was not my favorite but we saw all the rooms (60) before walking back to the hotel via the Rialto Bridge.

The hotel is very nice and we all have Junior Suites. Lucia had phoned for reservations about 3 weeks ago and had to call about 7-8 hotels before we found 3 vacancies for these dates and they were all for doubles! We all have a downstairs, with sofa, TV, desk and chair and upstairs, overlooking downstairs, a queen bed. Nice bath and nice at the reception desk. Anyway, we all had short naps before meeting for wine. There is a nice patio in a small inner courtyard near our rooms and we all met there for the wine, cheese (from Pecks in Milan) and talk. It is a great place, quiet and private.

We had a nice long dinner at Flaschetteria Toscana, a short walk from the hotel. My filete Barbero was perfect, Lucia had spaghetti with clams, shrimp and artichokes and we had some Francianna 98, a Venito (local) wine recommended by the waiter. What a nice day.

Friday, 11 May, 2001 - Venice, Italy
Lucia and I slept in late, and were barely in time to meet for breakfast at 8:45. We had to have breakfast inside the dining room rather than on the very pleasant patio as they didn't serve coffee on the patio, 5 feet from the dining room.

Today is museum day. We hiked through the maze of Venice and over the Rialto Bridge to Basilica Frari. This is a great church, holding, among other things, Titian's huge mausoleum. The church is best known for his Assumption of the Virgin.
Nearby is Scola Grande San Rocco. These are three very elegant rooms with paintings on the walls and ceilings by Titian, Tintoretto and many others. Great paintings. They gave us big mirrors to enable us to better look at the paintings in the ceiling. Next: the Accademia, a regular painting museum. More Titian, Tintoretto and Giorgione's the Tempest. There is a lot of great art in these museums to which I am not giving justice.

Continuing further on into the Salute area, we visited Peggy Guggenheim's home, now a museum. This is mostly filled with modern art: Picasso, Chagall, Pollack etc. It is not my favorite stuff. Santa Maria Salute is a great church at the tip of Salute across from St Marks, but it was closed by the time we got there.

We took the valporetto (water bus) back to Ca d'Oro stop, saving us a long walk and providing us with an interesting ride on the Grand Canal. We found an outside café on the Strada Nuovo near our hotel and stopped for lunch. There was no name on the café and they didn't give me an official receipt, just some numbers on some post-it paper. I bet the tax man would like to know about that. Our sandwiches and pizzas were good, and the beer and coke HUGE.

| | |
| --- | --- |
| | |

| | |
| --- | --- |
| | Back in the hotel I had a long nap, Kay went wandering with her camera, and Paul and Lucia had shorter naps. Then Paul, Lucia and I went over to S Zanipolo, the name for SS Giovanni e Paulo. It is really a nice church; stained glass colored windows, crypts along the wall of the nave covered with statues and paintings galore. Very orate with some baroque chapels. It is an early church as it needs cross beams across and along the nave and apse for support. We tried to peek into a smaller Renaissance church on the way back, but it was already closed. |

| | |
| --- | --- |
| | We met Kay on the patio for wine and cheese and we played a round of dominoes. It is different playing with four than two. |

| | |
| --- | --- |
| | We found a nice place to eat, outside, at the Trattoria Aquila Nera. We all had the menu: lasagna then cotoletta milanesa, and cheesecake for me. We had a Bardolino Classico Domini Venete that was not very good so switched to Valpolicella Classico for our second bottle. Both DOC. We talked a lot. The bill came on my credit card for most of the meal but he wanted cash for the second bottle of wine. I complied, scratching my head, until we left and I realized the waiter must be raking off the cash for himself. I fell right to sleep. |