&nbspPAPUA NEW GUINEA 2002 - Part One
Note: all underwater photos courtesy of Gary A. Lindenbaum, MD, unless noted. Copyrighted - please do not distribute.

Tuesday, April 23, 2002 - Philadelphia and beyond
This is my second trip to PNG with my friends Mark and Gary. We had such a great time in 2001 that we started planning the 2002 trip immediately after we got back last year.

I woke, got ready for work and finished my last minute packing. I brought my dive duffel down to the front desk so that I would have one less bag to lug down later. Stopped at the warehouse and went to work to get things put in order as best I could.

We are flying Singapore Airlines out of JFK, and given the huge amount of luggage we hired a limo service to drive us up to New York. I left the office a little after 1:00 so I could stop at Chef's Market to pick up some goodies to nibble on during the ride. I got some sushi, wasabi dried peas, hummus, pitas and olives. I made it back to my condo by 1:45 and went upstairs to get my stuff and when I came back down the limo was there. We put my two bags in and were on our way.

Gary had presents for both me and Mark. Last year when we were on board The Febrina, we met the "Unterwasser Yidden", a group of Jewish divers from Australia. They had T-shirts made up with their logo (a shark across the Star of David) on the front and "Febrina 2001" on the back and gave us each shirts of our own. This year Gary got long sleeved white T-shirts and made trip shirts for all three of us that read "2YK - Febrina 2002". "2YK" stands for "Two Yids and Kay" - hee! Gary also got a short sleeved T-shirt and made another shirt for me with the Unterwasser Yidden shark logo and the words "Unterwasser Shiksa" - a shiksa is a non-Jewish girl. Very clever!

I brought a bottle of Veuve Cliquot Champagne and we toasted our Second (annual?) PNG/Febrina trip. Traffic was extremely light so it was only a little over two hours up to JFK - we had built in plenty of time to make sure we didn't have any problems. We arrived around 4:30, but the check-in counter didn't open until 5:45 for our 9:45 flight, so we got to cool our jets for a while - we were certainly first in line, though. We checked our bags through to Port Moresby, PNG and were through security and at the gate by 6:15. I read, Mark fiddled with his digital camera and Gary played with his laptop computer until we started boarding our flight to Frankfurt.

We had three seats together, but the flight wasn't very crowded so we got to spread out and have some more room. They fed us - standard airline chicken or beef - and I watched part of a movie ("Jimmy Neutron") before falling asleep.

Wednesday, April 24, 2002 - Frankfurt and beyond
We had a continental breakfast before landing in Frankfurt around 10:30 a.m. We got off the plane and walked around the airport for a while - nothing exciting. We reboarded around noon and took off for Singapore at 1:00. The flight was unfortunately 1) 12 hours and 2) more crowded. In spite of that it wasn't a bad flight. They fed us lunch - chicken curry this time - and I watched two movies: "Harry Potter" and "Kate and Leopold" with Meg Ryan. Enjoyed Harry Potter quite a bit, despite the finicky video system that kept blinking in and out.

With eight hours to go, I took a sleeping pill and zonked out. I slept for four hours and then read/dozed. I'm reading "The Bear Went Over The Mountain" which is very funny - I had to stop laughing out loud a couple of times.

Thursday, April 25, 2002 - Singapore
We landed in Singapore - I think this is my eight visit to Singapore - a little before 7:00 a.m. and caught a cab to the Marriott downtown where we arranged for a day room. They brought up a third bed and we all took showers and napped for a couple of hours. While I slept, Mark and Gary went out for a while and came back having found a LAN cable for the laptop and a new digital camera for Mark! His decided to stop focusing, so he bought a replacement.

Around lunchtime we walked up Orchard Road to the same Chinese restaurant we went to last year, Fu Du Huang Gong. We had Lobster - a whole lobster with the tail meat removed, thinly sliced and served sashimi style on a bed of ice, with the remaining pieces crispy fried - Fried Prawns with Sambal, and Black Pepper Crab. Really good!

After lunch we stopped back so Mark could pick up his new camera. Gary wasn't feeling well so he went back to the room while I checked in a few stores. Before I left home, I had ordered the new Canon D60 Digital SLR camera - it is one of the highest resolution non-professional SLR digitals on the market and uses Canon lenses. Unfortunately it didn't arrive in time, but I found a place in Singapore that said they had them at good prices, although the salesman was a jerk. I went back to the room and asked Gary to come with me since he knows all about digital cameras. The salesman said the camera was across the causeway in Malaysia, but insisted I pay for it before he would bring it over to look at. He was a real unpleasant guy, didn't seem to know much about the D60 and was generally unhelpful about the additional accessories (batteries, chargers, cards, etc.) so I didn't get it. Hopefully the new camera will be waiting when I get home.

We went back and tested the computer - Gary hooked up the computer to the hotel's LAN and loaded AOL so Mark and I could get our e-mail. I found Mom on-line in Hawaii working on her lecture, so we IM'd for a few minutes. We also tested the satellite phone - we have rented one from GlobalComm for the trip. Between the three of us, the charges are pretty reasonable.

While Mark checked his e-mail, Gary and I went down to the pool. It was overcast, so not as hot as it normally is in Singapore. Around 5:00 p.m. we went back to the room, changed and got our stuff together. We went downstairs to the hotel restaurant for a light dinner. The guys had (HOT! SPICY!) soup and I had a Cobb salad. At 7:30 we checked out and got a cab to the airport. Our cab driver was very talkative and funny - he had never heard of Air Niugini in his seven years of driving a cab and laughed and laughed about it while his "Bee Gee's Greatest Hits" tape played in the background. We finally figured out which Terminal (One) and stepped inside to discover that our 23:10 flight was postponed until 2:15. Great.

Friday, April 26, 2002 - Papua New Guinea
We were the last flight out of Terminal One, but we did leave, taking off about 2:30 a.m. It's a six hour flight to Port Moresby, but luckily the flight wasn't too full. We each ended up with two seats apiece and got some sleep.

We landed around 10:30 a.m. - it's a two hour time difference from Singapore, fourteen hours ahead of the East Coast of the US - and paid our 25 kina for our visas. Gary had smartly arranged to exchange dollars for kina before we left so we had enough cash when we got there. We found our bags and went out to find the Loloata Resort representative. We drove twenty minutes to the dock and transferred to a small boat. After a short boat ride we arrived at Loloata Island Resort. We moored at the dock and went up to reception.
| | |
| --- | --- |
| | |
The resort is rather rustic - there are 22 rooms set in pairs in bungalows. It's a five minute walk to the rooms, but they are nice with AC and fans, nice bathrooms, small refrigerators and balconies. They remind me a bit of Africa - small number of rooms, set meal times, etc., but with electricity.

On the way to the rooms, Mark and I spotted a small tree kangaroo near one of the buildings - maybe about three feet long including the tail. We also saw two native birds - Common Crested Pigeons - about the size of a peacock without the tail, smoky blue-grey, with a poof of dangly feathers on their heads and RED eyes. Odd.
They brought up our bags and we all settled in, took showers, etc. We went back up to the "main camp" around 12:30 for lunch - beef, potatoes, salad, fruit. There was a very nice cat sleeping in the gift shop - a tortoiseshell, but friendly and outgoing. On the way back to the rooms, we saw a huge monitor lizard and the same two pigeons, one of whom was harassing a Japanese couple. I went back to my room and promptly fell asleep until about 6:30.

We all went back for dinner at 7:00 - a huge buffet of chicken, rice, pik-pik (local root), taro, mud crabs, broccoli, corn on the cob, salad. The tables were laid out in a "U" shape - there were about 20 other people at the tables. We chatted with two young German guys who were working at a communications firm in PNG for five weeks, and spending the weekend at Loloata.

After dinner a local dance troupe of about 30 dancers performed for us. They were in native costume with grass skirts, beads, feathers and shells. There were several children in the troupe, including two young girls around 4-5 years old - very cute. They danced, chanted and the men and boys played long, narrow drums. During one song, one of the boys had a solo chant, but he kept giggling and making everyone else laugh! They danced for about a half hour. I went back to my room around 9:00 and went to sleep.

Saturday, April 27, 2002 - Papua New Guinea
Awake at 1:30, then back to sleep until 4:00 or so. I read for a while - finished "Bear" and am now reading "Motherless Brooklyn." It's about a high school dropout with Turrett's Syndrome who works for a small time crook in Brooklyn. I got up around 6:30 and used the sat phone to call the office. Nothing happening - good - and the phone works. Gary hadn't been able to get the data link to work yet, so he'll try again from the boat. If it does work - hey, I can do my job from here, right?

Gary was up so he and I went down to breakfast at 7:00, spotting another tree kangaroo on the way. Bacon, eggs, toast, cereal, fruit, coffee, juice. The coffee taste kind of like the chicory coffee from new orleans. The cat from the giftshop came over to be petted and fed. Very nice, no "torti-tude" at all. Mark came down after a while - he said he woke up around 3:00 and didn't get back to sleep.

After breakfast, Gary and I went in search of the beach, which involved climbing to the top of the island and over the other side. It was a nice view from the top, although we decided not to hike down to the water. It was HOT already at 8:30 a.m. and I was really sweating when I got back to the room. A nice shower and some rest before we leave at 1:00 for the boat.

We all walked down to the main camp around noon. They said they would be up at 12:30 to collect the bags and asked us to leave them on the balconies outside the rooms. So - back up, put the bags out, back down - whew. We saw two of the kangaroos eating - they put food out for them, so Gary got some pictures.
| | | |
| --- | --- | --- |
| | | |
We ate lunch - fish, chips, salad, fruit, and met Dave, one of the resort owners. He told us some of the things they had gone through with the resort in the past 25 years. About five years ago they put in a water line from the mainland - 10 kilometers long. He said the actual labor wasn't as bad as bribing the right people.

We went down to the dock and discovered that Mark's bags hadn't been collected, so we waited another fifteen minutes for them to go up and get them. We were loaded into the boat - ten minutes to the dock and fifteen to the airport. We checked in - both Gary and Mark got hit for overweight baggage charges, but the kina being what it is, it wasn't very expensive. We waited in the lounge, had cokes and read. I finished "Motherless Brooklyn" and started "The Beekeeper's Apprentice" - it's about Sherlock Holmes after he retires to the countryside and befriends a young woman who lives nearby. They called two flights at the same time - there are four doors that exit from the lounge, but they all open onto the same open walk to the airplanes. They opened two doors but didn't announce which door for which flight. Luckily Gary figured out which one and we walked out to our flight to Hoskins.

We took off for our 45 minute flight and there was a beautiful rainbow over the island as we left Port Moresby. We landed around 4:00 and as we came in there was a big crowd of kids at the end of the runway waving at the plane. I wonder how many of them will ever fly in a plane. It was raining a bit, but we met the Walindi Plantation Resort rep, got our bags and loaded everything into the van. There was also a young Aussie couple with their 2 1/2 year old son. They were staying at the Walindi resort - our dive boat operates from the resort - for a week. It was a 45 minute drive to the dock - people walking/sitting on the sides of the road, chewing betelnuts and waving to the vehicles. We passed by Kimbe General Hospital - they are doing construction there, but it is a rather frightening thing. As we got closer to the resort we passed huge palm oil plantations with cattle grazing in the medians between the trees.

We drove directly to the end of the dock when we arrived and unloaded our gear and were off. We met the crew: Mick, the captain; Elsie and Digger, the divemasters; Andrew the cook; Nelson, the engineer; Valia, Rebecca, Denly and Ludwina, the assistants. Nelson and Valia were on the Febrina last year when we were here.
| | |
| --- | --- |
| | We also met the other guests on board: Charlie and Julie, a couple from Australia; "Brit" Mark, actually a Scot and actually from Bosnia where he is a bodyguard; George, an opthamologist from Atlanta; Max and Pleonta, he's a 75 year old German and she's a 40-something Thai woman who speaks very little English and doesn't dive; Mark, Gary and I. |
Only nine guests, eight divers. We got cabins sorted out - it was nice not having a full boat - stowed our gear and were underway. Dinner was asparagus soup, rolls, chicken parmesan with garlic pasta and Bananas Foster for dessert. After dinner we set up dive gear and cameras - Mark and Gary are both shooting with Nikon Coolpix 990 Digital cameras and are the source for all of the underwater shots shown here. It was a long day and I went to bed exhausted.

Sunday, April 28, 2002 - Papua New Guinea

| | |
| --- | --- |
| | I was awakened by Elsie at 6:00 for our first dive. I'm all set to go - I have my "Dive Toes" on - they're painted with the red and white "Diver Down" flag. Our first dive was The Crater. Shallow, but with tons of stuff - lionfish, nudibranchs - basically sea slugs, but they are among the most beautiful and varied creatures I've ever seen - (including some baby nudibranchs), shrimp, blue ribbon eels. Nice - we stayed down for over an hour. |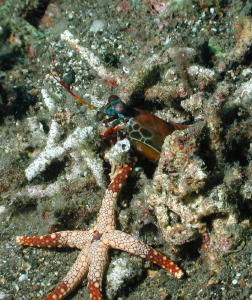 | | |
| --- | --- |
| | After we came up we had breakfast - bacon, eggs, toast, huge muffins, cereal, french toast. We moved to another site and dove "Dickie's Knob." Max only dives the 2nd and 4th dives each day, and Charlie and Julie skip the early first dive, so this was the first one with all the divers. Saw an amazingly large puffer fish (about two feet long) eating coral. Also saw Max underwater for the first time - this could be interesting. Max has a HUGE underwater video system and pretty much bulldozes all over the reef. Mick had gone in with him and stayed close to Max, which was a good thing, since when they were doing their safety stop (a three minute stop at 15 feet to allow nitrogen to leave the body and prevent bubbles from forming), Max kept sinking rapidly. Mick had to keep grabbing him by the top of his tank and pulling him back up. |
| | |
| --- | --- |
| | |
| | |
| --- | --- |
| | Back on board, Andrew had made a little snack - enormous chocolate chip cookies, about the size of a flattened softball. He calls them "Neutral Buoyancy Bickies" - meaning that if we eat enough of them we won't need additional weights to achieve neutral buoyancy underwater. The boat moved again to "The Arches" - pretty dive with two nice swimthroughs and lovely walls. A bit surgy at the end, though. Gary found a tiny crinoid shrimp - a crinoid is a type of starfish, and the crinoid shrimp live on their feathery arms, blending in by adopting the same color. |
| | |
| --- | --- |
| | Lunch was quite a spread: chicken, pork chops, chili, tortillas, salad, chicken & corn soup. After naps, we moved to a lovely bay - Wiray Bay - for our afternoon and night dives. The boat was quickly surrounded by dug-outs - the little kids asking for sodas and candy and the adults selling fruits and vegetables. George borrowed one of the dug-outs and raced around until it filled with water. |
| | |
| --- | --- |
| | This was truly a "muck" dive - silty bottom with a few bommies and bony corals, max depth 25 feet. The visibility was poor, so I went the majority of the dive without seeing anyone else, but I did find lionfish, tiny anemone shrimp, porcelain crab. There were several species of pipefish, most of which look like, well, sticks. |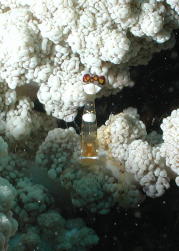 A few of the divers decided to do a night dive there - I read and napped and talked to our most recent addition, Dickie Doyle. Dickie (of "Dickie's Knob" fame) has lived in PNG for nearly 40 years and owns a cocoa plantation. His daughter, Nancy, works at Walindi Plantation and is the one who coordinates the Febrina bookings. When Dickie needs to go from place to place in the islands he contacts one of the dive boats to see if they can pick him up and drop him at another site, so we are taking him to his house tomorrow afternoon.

Dinner was corn chowder, lamb, scalloped potatoes, green beans and almonds with date pudding and ice cream for dessert. Mark and I stayed up and talked with Mick for a while everyone else went to bed.

Monday, April 29, 2002 - Papua New Guinea
I woke early and dozed for a while until the engines started a little before 6:00. I got up and had a cup of tea before our first dive - "Barney's Reef." Beautiful - a bit of current but a gorgeous wall dive. A nice female sea turtle swam with me for a while. There were nudibranchs, leaf scorpion fish, stone scorpion fish, four grey reef sharks, and schools of jacks. Some of the creatures are so well disguised that it's hard to see them even up close, like the anemone crab shown below.
| | | |
| --- | --- | --- |
| | | |
Breakfast was the usual eggs and bacon plus pancakes and banana muffins. We did our second dive at "Barney's Reef" - the current was down a little from the first dive. One of the more interesting sights was Charlie "free-diving" (no tanks, just one breath of air at the surface) with us around 45-50 feet.

We moved between dives to a site called "Lama Shoals" - pretty dive with a medium current flowing over the site. Once we got down over the edge of the reef the current calmed down. There was a big ball of jacks and a a lovely corner filled with fish that felt like being in an aquarium. We had to come back up the safety line as the current was blowing pretty good.
| | |
| --- | --- |
| | Lunch was spaghetti with meat sauce, pasta carbonara, chicken, baked pasta shells with red sauce, salad, coleslaw, tomato soup. Yum. After lunch we read and napped and steamed to Dickie's house. It's in a beautiful cove, and we dove "Dickie's Backyard" in the afternoon - I was down for almost an hour and a half - amazing stuff! Black nudibranchs with electric blue racing stripes - mating! Tiny pipefish no bigger than a toothpick clinging to seagrass, and inch-long black frogfish, a small nudibranch with a baby one no bigger than the nail on my little finger, banded pipefish, a juvenile lionfish, and huge garden eels. |
| | |
| --- | --- |
| | |
We stayed there for the night dive and dinner - carrot/potato soup, beef with spinach in puff pastry, eggplant, tomato/onion relish, pan-fired potatoes. Banana fritters with ice cream and chocolate sauce for dessert. Wow. After dinner, the skiff took Dickie home and we left to go further up the bay. I read for a while - finished "Beekeeper's Apprentice." The winds had picked up and it was pretty rough most of the night.

Tuesday, April 30, 2002 - Papua New Guinea
We stopped around 6:30 a.m., and had an impressive view of the volcanic range with the active volcano, "Father", smoking in the middle.
| | |
| --- | --- |
| | We tied up to the Star Dancer, another dive boat owned by the same owner, Peter Hughes. It's a much bigger boat than ours in both width and height - three decks, including a sundeck on top. |
| | |
| --- | --- |
| | The Febrina's on-board water-maker wasn't working, so while both boats dove the site, the crews worked on our equipment. We waited until their divers were done - I called Carol at the office (nothing going on) and Richard (front windows are in, master bathroom is greenrocked) - and then dove "Jane's Gully." It is a seamount with the top of the reef at 20 feet with sharp drops on all sides. Schooling barracuda, a huge white pluribranch (the name for large nudibranchs), and dozens of what I refer to as "Mint Chocolate Chip" nudibranchs - they are pale mint green with black spots or black with mint green spots. Saw a free swimming moray being chased off by several species of smaller fish. Gary found a tiny, beautiful nudibranch on the top of the reef at the end. |
| | | |
| --- | --- | --- |
| | | |
We came up and had breakfast - scrambled eggs, fruit, toast, apple muffins, cereal. After breakfast we moved to "Shaggy's Reef." I decided to sit this one out and work on my base tan since it was sunnier than it had been. It was so hot though that I could only stay out for a half hour or so. Andrew made peanut butter chocolate chunk cookies for a snack after the dive - here is his recipe:

1 jar peanut butter, put in mixing bowl
Fill jar with large grain or raw sugar
Mix with PB
Add one egg, mix
Add chocolate chunks
Drop into cookies roughly the size of Oahu and bake.

Wow. One of those and you could easily drop a pound off your weight belt for the next dive. The divers had seen three sharks on the dive, so we moved a little further up the reef - "North Shaggy" for the next one. Nelson put down a bucket with holes cut in it filled with fish pieces to attract the sharks. It worked - three silvertips came in and swam around us the whole dive. There were a couple of nice bommie reefs with tons of nudibranchs, great fish.
| | |
| --- | --- |
| | |
| | |
| --- | --- |
| | Towards the end of the dive, Nelson took some fish pieces out of the bucket and threw them out for the sharks. We hung and watched them swoop in - they seemed particularly fond of George's yellow fins. Had a couple of close passes - elegant fish. |