&nbspMYERS-HAGANDER AFRICA TRIP 2004 - Part One
Mark/Jan Myers and Ron/Jim Hagander visited Botswana and South Africa in April, 2004. They spent time in three different camps in the Okavango Delta in Botswana and then went to Capetown, South Africa. This TR is written by Jan Myers.
Wednesday, March 31, 2004 – I woke early (3:15) and got up. I took my first meds, got dressed, did emails and did all the last minute things that needed doing. Mark woke at 3:45 as planned. He had shaved the night before so he had streamlined his prep. Mark swallowed a few bites of cereal and we were off. The shuttle was there before 4:15 so we hurried out. Robert was our driver. Mark commented that this wasn't quite as nice as when we took a car to LAX. We picked up two more passengers and soon discovered that they were with Wycliffe Associates. We visited with them all the way to the airport. They had attended our church years ago and we reminisced about the old facility on Malvern. They are on their way to Oklahoma for speaking engagements. She is Hawaiian and has that Hawaiian warmth about her. She kissed us both when she got out of the van.
We got to the airport about 4:45. There were lots of people there but only a few at the Frontier counter. I had called for seat reservations but the agent put us in row 4 instead of at the back. It was perfect. One agent, commenting on our lack of luggage, said, "You don't need luggage, the elephants all have trunks," groaned and banged his head on the counter. It was a fun way to start our trip. Security took almost no time and we were seated in the waiting area by 5:15.
Our plane left a little late since a Northwest plane was sitting at the gate and was apparently having a little problem. We left about 15 minutes late. When we were airborne, the flight attendant gave the best emergency procedure demonstration I have ever seen. He said that he had been a flight attendant for about 20 years and it was important. The announcements were a hoot. "If you should need anything, ask a flight attendant and Joan or Melissa will run up the aisle with a smile on her face and a song in her heart." Later he said, " If you should need anything, ring and Melissa will dance up the aisle to serve you. She is a clogging champion."
We had an uneventful flight to Denver where we changed planes. After we ate our salad and sandwich we were surprised to be served a chicken, beef or veggie wrap. For a no food flight, we got a lot of food. We were really quite impressed with the Frontier flight.
When we got to Atlanta, it was cold and rather blustery. We looked for the shuttle to the motel but the button didn't work and we couldn't find a phone and finally a man loaned me his cell phone and I called. Finally one of the shuttle drivers said the shuttle was broken down. He would take us to Day's Inn where another man would take us in his private car to the Holiday Inn Express. That is what we did and we finally arrived at the motel. It began to rain a little.
Ron and Jim arrived. Their plane was an hour late. They walked to a restaurant to eat but we opted for hot showers and bed. I used Ron's phone to call Kay. I only had her work phone and the phone number at her new house so I left a message on her private line at work.
This Holiday Inn Express isn't as well kept as some but it is OK. Jim claims that the chair in Ron's room was surrounded by toenail clippings. We, however, didn't have that extra. During the night, someone had a very good time in the hallway.
Thursday & Friday, April 1 & 2 - We woke, dressed and went down to breakfast. The breakfast room is cheerful with the usual assortment of food that Holiday Inn Express has. We had ordered a shuttle for 7:15 but it was a little late. They had rented another van after theirs had broken down yesterday. We got to the airport, went through security and Ron used his Delta card to get us into the Delta lounge. They were only supposed to admit two guests with Ron but they made an exception. It was nice to wait in there. I called Kay and got her numbers. She said that I should call when we got back to Atlanta. She thought that maybe her cell would work on the islands.
Our plane was an Airbus 340-600, South African Airlines. It is configured with two seats on either side and four in the middle. We were in row 64 with Ron and Jim behind us. Each seat had a screen and individual controls. In theory, each person can choose a movie or a TV show or a game etc. Unfortunately, there was a glitch and there was no choice of movie. They rebooted and tried to get it up and running but it still wasn't quite right. Eventually, we all had the chance to see the same movies: Duplex, Runaway Jury, Stuck on You, etc. Not bad but not quite right. Mark watched another movie but I played Shanghai, a Mah Jong game, which was fun. Why didn't you sleep, you ask? There were a number of children on board, notably 14-month-old twins that evidently didn't like to travel. They cried separately and together much of the flight. They were seated in the middle seats one row ahead of us. Eventually their mother gave them something from their pediatrician and they slept for a while. Her family is in Johannesburg and they (she and her husband) are bringing the children to see relatives. He was very good about taking care of the children but that didn't make them any happier. I slept about half an hour and the others didn't do much better. It was a long flight. They fed us lunch and then an hour or two before Cape Town they fed us breakfast.
Cape Town is a very interesting place to fly into. One flies right over Table Rock. It was spectacular. We were in transit so we were asked to stay on the plane for an hour. We were able to turn around and talk to Jim and Ron while we waited. Jim beamed some addresses into my Clié. Jim knows a lot and he is very generous with his knowledge. The flight continued to Johannesburg and they fed us a snack. We landed with out incident and went through immigration and customs. We were surprised NOT to be met by Ker & Downey agents. After waiting a bit, Ron and Jim got a cart and we walked a very short distance to the hotel – Sun Intercontinental.
We were again surprised to find that they had us scheduled for the fourth instead of the second. They found us rooms, however, and after giving them my credit card; we were escorted up by the doorman. He was decked out in a long robe of sorts and a Chinese looking straw hat. Our room was very attractive and comfortable. We were all impressed with the bathrooms: lots of marble, big tub, big shower, separate toilet area and a fluffy white robe. It invites one to take a long, hot bath. I opted instead for a shower and shampoo and after eating a bit of cheese and a cracker, fell asleep. Mare bathed, ate something and he too went to bed. Jim and Ron went to eat at The Quills, the hotel restaurant. We were glad to have arrived.
I called several numbers, as did Ron. He talked to Janice in Cape Town and got the mix-up taken care of - - we hope.
Saturday, April 3, 2004 – After a good night's sleep, we went down for breakfast. It was on the main floor in a very attractive area. It was served buffet style with a wide assortment of cereals, fruit and hot dishes. Very nice. Jim and Ron opted for room service, which was included in the room charge! Nice. When we checked out it was nice to find out that everything had been taken care of other than the phone calls. We walked over to the terminal and went through security as well as passport control.
| | | |
| --- | --- | --- |
| | | The Botswana Air plane was at a remote location so we were bused to the plane. It was a much smaller plane and we didn't have seats together. I had a seat with a couple and their 14 month old. He was much better behaved than the twins, but of course, it was a much shorter flight. The man is a professional photographer. They live in Maun. We were served a croissant with cheese and some yogurt. It was served on pretty lilac colored plastic dishes. The wife asked me if I would give her my dishes. She is collecting them for a little friend who is making a tea set. It reminded me of Nancy and the napkin – "A napkin is a napkin." |
It was a good flight. After we disembarked, we again went through customs and immigration. There was a Ker & Downey rep waiting for us with cold bottles of water. It was warm and the water tasted good. Ron and Jim packed their soft bags and the agent took their bags to be stored. We then followed John, the pilot of the next leg, down the tarmac to a six-seater Cessna. We were soon flying over the treetops. I saw hippos and a kind of antelope. There was a lot of water. The pilot reminded us of John Cleese, both in accent, looks and actions.
| | |
| --- | --- |
| After about 20 or 25 minutes, we arrived at a small landing strip. There were about five elephants near the strip. As soon as we landed, they began slowly crossing the runway. | |
We were met by James, who will be our guide. He is a tall soft-spoken Botswanian. It was a short drive to Shinde camp. Shinde means, "squirrel." The camp uses Toyota Land Rover 4 x 4 vehicles. They are especially designed for safaris, I think. There are two rows of seats behind the driver, each higher than the one in front. The windscreen lies down flat so the view is unimpeded. As we drove we saw and heard baboons as well as the elephants.
When we drove into camp, Steve, the camp manager, was waiting for us and greeted us. They don't know anything about the guests until they arrive - - just the names. There were also five women who were singing a greeting. We were assigned to tent number one and the women picked up our bags and carried them to our rooms. One woman put Mark's bag on her head and carried it that way. We were put in tent #1, the closest to the main building. The room is a tent and yet it has a tile floor and a door. There are twin beds, some low tables for luggage, end tables and a closet of sorts as well. It is en suite so there is a shower, toilet and basin. It is a rather open design so one should really know the person you are traveling with quite well. There is a can of mosquito repellant and a bug killer in each room. Steve had given Jim his own tent since there was space.
| | |
| --- | --- |
| | |
After we got settled, we went up to the lodge where lunch was waiting for us. It consisted of several salads, cheese, and crackers. Very nice. We then rested until 3:30 when we congregated at the fire ring. There is a circle of canvas lounge chairs and a bar of sorts with coolers of water and fruit juices. Iced tea, as well as other drinks, was served. There was also a sweet offered.
There is a family of Swedes here: Stephan, Lolo, Max and Siv, Stephan's parents. Stephan is working at the embassy in Gabrone and Lolo works for the E. U. Stephan's parents just came to visit. They will be in Africa for six more months. There was also a Russian couple and a French couple, Mimi and Guy. I really didn't get to talk to the Russian couple.
Steve, the camp manager, is an engaging South African, born in Cape Town. He has an infectious grin and a lovely sense of humor. He is a relief manager and will be going on to Kanana when we do. He explained some basic rules: not leaving the tent after we are walked back at night, not leaving the vehicles, etc. As long as you are in the vehicle, the animals see the vehicles and everything in them is a unit. If you leave the vehicle, you become prey. We will be awakened by coffee or tea at 6 AM. Breakfast is at 6:30 and we go on a game drive at seven returning for lunch at 11:30. There is a siesta time until 3:30 when there is tea, with a game drive at four. One guide is in charge of a group for the entire time. As I said, our guide is James. He has been guiding for about 20 years. Steve says that he is very skilled at spotting tracks and game.
We set off on our first drive, loaded with cameras and anticipation. The guides drive on little tracks in the grass or dust but will take off if they feel there is game or in order to get closer to animals. They drive over bushes and little trees as well as through water. Actually, when there is a lot of water, the drives are from one little island to another. We began seeing animals almost immediately and by the time we returned to camp we had seen about 15 animals including elephants, giraffe, hyenas, impalas, kudus, lechwes, squirrels, wart hogs, and zebras as well as baboons.
We saw Tsessebes, a type of antelope that is built for speed. We kept seeing them and I kept asking James what they were. He patiently answered me every time. We stopped for Sundowners at sunset at a pool with hippos in it. James got out, put up a little table, put a cloth on it and offered wine or beer or juice or water to whoever wanted it as well as little meatballs and a dipping sauce. It was super.
| | | |
| --- | --- | --- |
| | | Of course, looking at the hippos was the most fun. They stick just their noses and ears out and watch you. They are the most dangerous animals. James says that he is most afraid of hippos. If you get between them and where they want to go, they can be vicious. It is sometimes hard to tell how many hippos are in a spot since they submerge and then come up but not all at the same time. They make a grunting sound. |
After our little break we continued on our drive. When it gets dark, the driver holds a spotlight while he drives and shines it in the grass and trees to spot the shining eyes of animals.
We arrived back at the camp in time to freshen up for dinner. Dinner is served in the dining area - up a ramp to the top floor of the lodge. It is very open and airy. There were candles and napkins folded in interesting ways. The cook announced what the menu was and the food was brought around by the waiters. We a starter, followed by an entrée and two vegetables followed by dessert. Of course, wine is offered as well as water. The food is delicious and ample.
Steve sat at the table with us. I suppose he sits with the newcomers in order to get to know them. We had a wide-ranging discussion during and after dinner. He is passionate about the elephant and the preservation of animals. We also discussed malaria. He never takes anything to prevent it. He says that malaria strikes mostly in areas of concentrated population. It is spread by the female anopheline mosquito. Steve says that they are very tiny, only come out in the dark and don't hum. He also said that more people die from malaria in Africa than from AIDS. It seems that Bill & Melinda Gates Foundation is diverting some funds from the AIDS research to the cure for malaria. It is treatable and can be cured.
After dinner, and our very interesting conversation with Steve, we went to the fire ring to have drinks and decide what we want to do in the morning. We will do a drive. There was a lot of fun and banter as the group sat and talked. Mark and I went to bed fairly early since we were still a bit tired. Someone walks each person to his/her tent because the animals hunt at night. We are given a large flashlight to use and are told to stay in the tents until we are awakened in the morning.
We took showers and put our dirty clothes in a large basket. The camp does your laundry every day, if you wish. The beds had been turned down and the canvas had been put up for privacy. There is a porch or veranda where one can sit, if one wishes. You go through a zippered door. There is screening but you are open to the outdoors. It is so devoid of unnatural noises but there are lots of animal and bird noises. We are evidently sharing our room with a ground squirrel that has taken up residence in the walls of the bathroom. When anyone uses the bathroom at night he becomes quite agitated and scurried around. It is somewhat unsettling for us as well.
Sunday, April 4, 2004 – We slept fairly well although I kept hearing the hippos grunting during the night. At six AM, a gentle voice said, "Knock, knock," and one of the women came with a tray of coffee. We dressed and went up to breakfast at 6:30. There was a table with cereal, fruit, yogurt and eggs and bacon if one wished as well as toast. We ate and left on our drive at seven.
We again saw animals. James drove the truck around a tree where there was a magnificent male lion lying beside a termite mound and under the tree. The termite mounds are excavations made by the termites. The excavation underground is the height of the mound. The termites excrete a sticky substance that holds thee mound in place. They will use a mound for many years. Sometimes when the queen dies, the whole group will go off and build another mound. There are tiny holes for circulation in the mounds that are being used but one sees a mound with large holes in it, it is no longer in use. They are sometimes up to 15 feet high. The termites often build them near a tree for support.
The lion that we saw looked as though he had just been made up for a commercial. His mane ruffled in the breeze and he turned his head this way and that so that we could take pictures. We sat and looked at him for some time. Kay said to take lots of pictures and I am. James told us that he was about 14 or 15 years old and often hung out with his brother.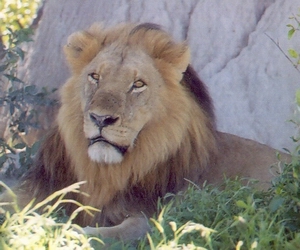 James saw the tracks of a cheetah. They are an endangered species and aren't seen too often. He followed the tracks and we drove around while James scanned the grass for the telltale sign of a movement, an ear, a tail, whatever. Suddenly he pointed to an area and there was the cheetah. In fact, there were two of them. We had to be very quiet. James drove from one spot to another and as we took pictures. He radioed the other vehicle so that all of the guests could see the cheetah, as well as the lion. It was really exciting to see them. We sat very quietly and we could see them looking back at us through the grass. They are perfectly designed to be practically invisible when they are in the grass. Their coloration blends in perfectly and they are so skillful at remaining perfectly still. They are sprinters, as are lions and other cats. They will kill impala or Tsessebes or other antelope and then drag them up a tree to keep them from other predators. When we got back to the camp, I will admit that we gloated a bit for the Swedes. They are such a fun group.

We had a lovely lunch although Mark didn't eat the gazpacho. He isn't feeling well, I think. The food has been lovely and varied. Mark doesn't do too well with unfamiliar food. We rested in the afternoon and then went for tea at 3:30. They served a little snack as well as drinks and then at four, we went for a drive, again. On the drive we again saw many animals. James had seen the tracks of a leopard and was trying to find him. We found the remains of a civet that perhaps the leopard had killed.
James drove through the water and we got mired down. No matter how hard he tried, we couldn't get out. We all got out and stood by a termite mound next to a tree while James tried to get the car out of the mud. He finally found some dead branches, jacked up the Land Rover, put the branches under the tires and drove the vehicle out. Jim and Ron had walked to the dry ground but James picked me up and put me over his shoulder and carried me the short distance to the boys. He then went back and scooped Mark up and carried him. It was hilarious.
| | |
| --- | --- |
| | |
Mark is wearing his Head Net to keep the mosquitoes out. I told him that he reminded me, not of Humphrey Bogart in The African Queen, but of Katherine Hepburn. We stopped for Sundowners still laughing.
| | |
| --- | --- |
| | |
As we drove back in the dark, James kept flashing the spotlight around in order to see various animals. We saw a hyena slinking away, a Bush Baby in the tree - - distinctive because of its red eyes. Bush babies are small mammals that live in the trees. We saw a wild African cat. I felt that I had sensory overload. We were all excited over seeing the lion and the Cheetahs. We went to dinner and had another lovely meal. The chef announces the menu and they serve it very elegantly.


| | |
| --- | --- |
| During the meal, a Genet and her daughter came into the dining room. The mother Genet sat under a table. They put chicken on a tree branch for her but not enough to keep her from feeding herself. The Genet is a lovely gray and white creature that has a ringed tail and looks rather like a cat but is related to the mongoose. | |
Lolo hasn't been feeling well so she didn't go on the drives today but has come to meals. Their party is leaving for Kanana tomorrow. Guy and Mimi left today for Kanana. I asked Steve what the significance of the silver stars that many of the workers wear on a ribbon on their clothes. He said that it signified that they were members of the African Zionist Church, the largest church in Africa. After dinner we adjourned to the fire pit and had something to drink, if we wished. Steve gave us a sip of a liqueur called Amarula, made here in Botswana, evidently. It was really quite good. We discussed what we would do in the morning. We decided that a Delta boat would be fun and that we would do that.
Monday, April 5, 2004 – The coffee tray came at 6 AM. Mark stayed in with a little Delta Belly as we have decided to call it. He took some Imodium AD and I started him on Cipro to combat the bacteria. He locked the door today so the women couldn't get in to do the laundry. Mark doesn't have a fever so I am not too worried about him.
| | | |
| --- | --- | --- |
| | | When I went for breakfast I saw James. He was looking down and then circled the leopard tracks right in front of the camp where we walk all the time. We had looked for the leopard all day, the day before but apparently, he had been looking for us too. |
After breakfast, we drove for a bit and then walked for perhaps a mile or so. James is just a fount of information. He carried a gun as we walked in case we were attacked by something. We were asked to stay close together since predators pick off the stragglers. He pointed out the different grasses, trees and birds. He showed us an insect called an Ant Lion. They eat the ants when they come across them. He also showed us the very beginning of a termite mound. One grass is called Lover's hair. It is soft and silky. Another is called Spider Web plant. The spiders like to make a web in the grass. There is a plant that has soft, white growth on it. It is harvested and used to make stuffing for pillows. The plant is called Grandfather's hair. There is a plant that is used for thatching roofs. If you rub it between your hands, it smells like turpentine. Naturally, it is called Turpentine grass.
We saw an ebony tree as well as acacia; acacia is eaten by the giraffes. The acacia has sharp thorns but the giraffes have broad flat lips that are able to negotiate around the thorns. One acacia has long pods that look like candles. We went back to the vehicle and then continued our drive. The most exciting thing was Jim finding a porcupine quill. I asked James if we could pick it up and he said, "Yes," although one isn't supposed to take anything away from the area. We went back to the vehicle and continued our game ride. I don't know that I will ever get over the thrill of seeing giraffe's and zebras and baboons and many interesting kinds of antelope.
When we returned to camp, I checked Mark, cleaned up a bit and went up for lunch. Steve had the cook make scrambled eggs and dry toast for Mark. Steve also gave me a packet of salts (electrolytes) to dissolve in water for Mark. He drank some and immediately started throwing up so Steve said that was a sign of dehydration and Mark should sip, sip, sip continually. He is making sure that we drink bottled water only.
After a rest I went to the lounge level of the lodge to write and enjoy the view. The Swedish group left and another group came. They are three people from Ker & Downey. All of the people that work for them are asked to see and experience the different camps and opportunities offered. There were two Micheles. One was from Cape Town and one was from Houston. She recognized our names since we were among the first ones she processed in her relatively new job in Houston, which is checking to make sure that everything is in order for each tour in Africa. Judy works in Cincinnati. She is full of energy and kept us all hopping.


| | |
| --- | --- |
| After tea and pastries and tea we (The Boys and I) went for a Delta boat ride. It was an interesting ride with James. He is so adept at nearly all things although he doesn't do the Mokoro. The Mokoro is a dugout canoe. It used to be made from the Baobab tree but now they are made from fiberglass. Too many trees were cut to make the Mokoro and they would leak after a few years, getting the tourists all wet. | |
The guides study and have to take tests in order to have a license to guide. The Ker & Downey guides are all from Botswana and have learned tracking and hunting from their fathers and grandfathers. They also have to know about tracking, scat and vocalizations of the animals. They know about the grasses, reeds, flowers, trees and birds as well as animals. They have to be licensed in each area.
The Delta boat is a powerboat. We set off with a cooler of juice and beer and water, James pointed out the papyrus, the reeds used for building fences and houses, the grasses and trees. We saw fish eagles, the cormorant, the Coucal, the Bee-eater, the Jacana also called the Jesus Bird because it has very long toes and walks on the lily pads. It appears to be walking on the water. Some of the other birds that we saw, but not necessarily on this ride have been: the Hammerkop, the Kori Bustard, the Spurwinged goose, the Rufousednaped Lark, the Grey Lourie, the black and white Blacksmith Plover. It is called that because its call sounds like the anvil in a blacksmith's shop. We saw the common quail and the Saddlebilled Stork, with wonderful coloration. Later on at another camp we saw my favorite - - the Secretary Bird. It walks with such dignity and precision. There were mourning doves and egrets and owls. It was wonderful.
As the boat went through the water, we were surrounded on all sides by the grass and reeds. There is water everywhere and some of the animals have gone farther out where it is drier. They will come back in August. Ron claims that he saw a crocodile but he was the only one. Jim is really getting sunburned and he has broken out in what looks like hives on his hands. I am like a nagging mother making The Boys put on sunscreen and mosquito repellant.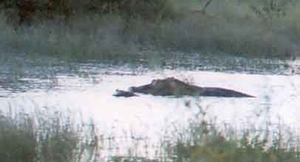 When we got back we went for a game ride and again enjoyed seeing the animals. We saw so many the first 24 hours. James is determined to find the elusive leopard and kept sweeping the trees with his spotlight in an effort to see him. We did see herds and hyena and so forth but no leopard.
When we returned to camp, Mark seemed better but decided not to come to dinner. Steve made sure that he had scrambled eggs and toast while we had a wonderful dinner and were entertained, not only by the Micheles and Judy, but by the Genet. We feel that we have gotten to know Steve by now. Good enough to give him advise on his love life. He is going to see his girl friend in San Salvador on the 20th. She is a doctor and deciding what her specialty will be. I teased him about taking a little square box with him but when he said that they had been going out only five months, I told him that was too soon for a little square box.
| | | |
| --- | --- | --- |
| | | It was Steve's birthday and the staff had baked a large cake and brought it in with much singing and hilarity. We then adjourned to the fire ring where there were drinks and more singing. All of the staff was there and they serenaded Steve. It was quite lovely. The staff is obviously very fond of Steve. James said that they wished that he would stay at Shinde and not leave. |
Tuesday, April 6, 2004 – The coffee tray arrived at 6 AM. James says that his wife is one that brings the coffee trays in the morning. He lives in Maun and goes home every two months. Their two daughters live with his mother and go to school in Maun. Mark decided not to come for breakfast so he had a couple of boiled eggs and toast in our room. After breakfast we said goodbye to the Ker & Downey people and set off on a morning ride. It is interesting to see how blasé we have become. We see a herd of exotic African animals and don't even stop to look.
I would be hard put to say which is my favorite animal. Giraffes are so interesting. They use their eyesight to spot enemies. James says that is one sees a giraffe looking intently in a certain direction, there is probably a predator there. One can tell the difference between the male and female giraffes by their horns. They both have horns but the tops of the horns are bald on the male while the female have tufts of fur on top of theirs. Also the males are probably a bit larger. Some have darker spots than others.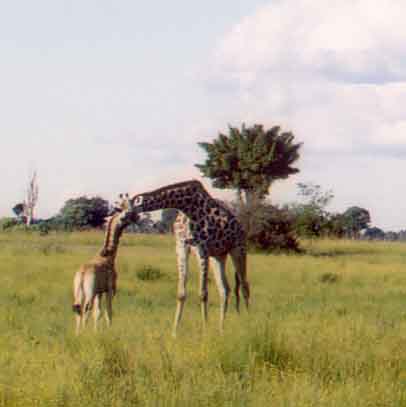 When we got back there was a general exodus. Steve is going to relieve the manager at Kanana; we are going to Kanana and the Ker & Downey women were off to the next spot they were visiting. Judy called it an inspection but I think it was more like an orientation for them.
James drove us to the airstrip and there was a plane arriving. Rose, a librarian from England got off. Poor Rose! She doesn't travel well and was not feeling very well after her trip from Maun. The permanent managers were on this flight too. They got into the vehicle with James and prepared to go back to the camp. Meanwhile, Steve had already left for Kanana.
John was not our pilot this time - - it was Ewan. He is a humorous man with a scraggly beard. He unloaded the supplies from the small little cargo hold under the cabin of the plane. I see why they require a soft-sided bag and only 26 pounds. It is a tight fit under there. He loaded the bags and we all, all six of us, got in. Mark and I sat in the back row. Rose is a rather large woman too so it was a heavy load.
Ewan cranked up the engine of the plane and we went down the runway. Ewan said, what one never wants to hear the pilot of a plane say, "We're not going to make it." Fortunately, he meant we aren't going to make the take-off. He turned around and we went at it again. Rose sat with he eyes closed and her head down the whole time. It was about a 25-minute flight and was uneventful. When we got to Kanana, there were Mimi and Guy, ready to leave. Ewan muttered that the French always have hard –sided luggage that is too large for the hold. He makes them hold it then. Sure enough, Mimi and Guy had large hard-sided luggage, which Ewan put into the cabin of the plane.
Our guide at Kanana is Teko and he was there to greet us and drive us to the camp. He is a younger man and more talkative than James. They all seem to be very well informed and very knowledgeable. When we arrived at the camp, there was Steve to greet us. I told him that he looked a lot like the manager at the last camp we were at. What a nice guy.
The women were there singing again. They carried our bags to the tents we were assigned. We were again in #1. I suppose they put the old folks close to the main building. Our tent is right on the water and has a porch or veranda along two sides. There is a tree, called the Sausage Tree that shades the tent. It is called a Sausage Tree because there is fruit that hangs down that really does look like sausages. It is poisonous to humans but the baboons and antelope like to eat the blossoms. Inside, the room is very nice with a curtain separating the bath area from the bedroom. There is also a shower curtain. Again, Steve gave Jim his own tent.
| | |
| --- | --- |
| | |
After we settled in a bit, we walked to the main building. There is a whole different feel to this camp. It is less like a tree house and more like a very open, airy all on one floor veranda. We looked around and the Swedish contingent soon joined us. They have a nice gift shop as well as a lounge area. The fire pit is down one level, on the water. There is much more water here so we are going to go on the Mokoro tomorrow.
| | |
| --- | --- |
| | |
After tea we went on a drive with Teko. We saw giraffes and Zebras as well as lot of other game. We stopped to see hippos for Sundowners and enjoyed the little snacks that had been prepared for us. I think I enjoyed them most. They were pickles and salami.
When we drove back to camp, Teko used his spotlight to look for animals. They have spotted leopard here in the last week but we didn't have such luck. Teko spotted a Bush Baby. It is a small nocturnal mammal that lives in trees and feeds on insects. We also saw a springhare. It is a rabbit-like mammal that springs rather like a kangaroo. Jim caught sight of a spotted hyena. They are really very vicious and aggressive animals. I wouldn't want to tangle with one.
| | |
| --- | --- |
| | |
When we got back there was a cocktail hour followed by dinner. The food is good and plentiful and quite varied. They have the same menus in each camp so that you don't eat the same food day after day. We went to the fire ring and chatted a bit. The Swedes are leaving tomorrow. What a nice group they have been. We went back to our tent and found candles by the beds. Sure enough, the lights went out and we lit the candles.
Mark has been careful to spray with repellant so he hasn't been bitten by mosquitoes. Each tent has a repellant as well as a bug killer in it. Also here they have an air horn to use in case of emergency. The instructions are to blow it once for a medical emergency and twice for an animal emergency. One guest, we were told, thought it was for mosquitoes and aimed it at a mosquito and blew. Of course people rushed to see what emergency there had been.
We could hear the soft sound of people talking around the fire ring as we went to bed. The hippos are in the water quite close and one can hear them grunting and blowing. It is a lovely way to fall asleep.
Wednesday, April 7, 2004 – There was a gentle voice calling at 6 AM with a tray of coffee. Mark decided to stay in bed and sleep and I went for breakfast at 6:30. At 7 AM, Ron, Jim and I got into the vehicle with Teko. We watched for game as we drove to the area where the Mokoros were waiting for us. Ron got in one and Jim and I in the other. Teko isn't certified for the Mokoro so we had two nice gentlemen poling us along. One was named Blue and one was named Ribs. I would imagine that these were the English equivalent of their Botswanian names.
The Mokoro is a rather shallow type of canoe propelled by a poler who stands up in the rear end. One must sit rather quietly. The seats are just placed on the bottom of the Mokoro. There is a backrest but the person's feet stick straight out. Mark never would have made it. He would have had such cramps in his legs.
It was very still and quiet as we glided through the rushes and reeds. The guides pointed out the birds and the names of the grasses and plants. We went up on the bank at one point and stopped for tea or, as I imagine it was called during the time of the British, Elevenses. Up in one tree we saw a very rare, endangered bird called Pel's Fishing Owl. Later Steve told us that two women had come from England specifically to see it and had gone home without seeing it.
We went through large stretches of lotus flowers or water lilies. One water lily is called the Shell Lily. It is smaller than the regular one. Tiny little frogs jumped into the Mokoro and Tuesday into the Delta Boat. One tiny little green frog jumped onto Jim's knee and stayed there a long time. We saw both green and beige or brown frogs. It is getting scary to see how good Ron is getting at spotting game, birds and other things.
| | | |
| --- | --- | --- |
| | | |
We got back to the vehicles and then back to the camp for lunch. The meals are good and lunch is usually served buffet style. Of course, after lunch, come naps. When we returned to the tent, there were Vervet monkeys all over the sausage trees right outside the tent, in fact one Vervet monkey was sitting on the railing, watching us. Steve spent the afternoon repairing the generator so that we could have lights.

After tea in the lounge, we went on a drive. We love watching the giraffes, the kudus and the baboons. The baboons are really quite aggressive and are predators. They are also very noisy. When one sees a troupe of baboons, the Alpha male usually is on a high spot to keep watch. If there is danger one hears a lot of chatter and screeching.
| | |
| --- | --- |
| | |
After Sundowners and a night drive, we went back to camp and after a cocktail hour, we had dinner. They are festive affairs with lots of conversation and laughter. We then adjourn to the fire ring where there is more talk and laughter. It was fun to see Ron making Rose laugh and loosen up a bit.

The guides eat with and stay with the group all the time, including the time around the fire. When one goes back to the tent, the guide takes you. The predators are out at night and they make sure the guests are safe. They are really professional and are respected. I forgot to mention one of the guides at Shinde. His name was Adam. He was a relatively young man, very handsome and was so concerned about Mark and asked about him every time he saw me.