&nbspCOCOS/ MALPELO 2002 - Part One
Note: all underwater photos courtesy of Gary A. Lindenbaum, MD. Copyrighted - please do not distribute.

Sunday, March 10, 2002 - Philadelphia and beyond
Awakened by the sound of rain against the windows at 1:30 a.m. I went back to sleep until 5:00, and then got up to finish getting ready. Checked e-mail one more time, posted my "Gone Diving" entry to Diddakoi, snuggled with Alien, ate breakfast and called a cab. Jennifer is going to stop in the check on Alien a couple of times while I'm gone.

I got to the airport very early, and of course there was very little wait - I was checked in and through security in a half hour. I had some coffee, shopped, bought a book, some water and snacks for the flights. I found Nick, Beth, Gary and John at the gate - I've been diving with all of them several times before.

Our flight left around 1:00 - very bumpy take-off as it was extremely windy. I loved it. Dozed a little on the flight and read for a while. We landed in Miami around 3:30, and cooled our jets, so to speak, for another half hour waiting for a gate to open up.

Our connecting flight was scheduled to leave at 5:00 so we made our way to the gate and found seats. After a quick trip to the ticket counter to get the latest in high-tech security clearance - an orange dot sticker on the ticket - we met up with a few more members of the dive group - Jeff, Sal and Bob (specifically, Bob 2, but that comes later).

Quick flight down to San Jose, Costa Rica - two hours and fifteen minutes. We had a "carrier landing" - I'd be surprised if the landing gear isn't still imbedded in the tarmac down there. Through passport control, then the wait for the luggage. John, Gary and I got our bags and sailed through customs. Our tour rep, Rudy, met us on the other side. He took our bags and we waited for the others..... and waited.... and waited. They finally came out a half hour later - they were stopped by customs and had ALL of their bags searched.

We finally got everything loaded and drove to the hotel about twenty minutes away - The Grano de Oro. Charming place - my room had a double bed and a single, a bath with a skylight and a little patio through a set of french doors. We met downstairs and had some dinner around 9:30 - I had an avocado/hearts of palm/asparagus salad and a version of beef fajitas. Very good and cheap - about $15. Slept very well.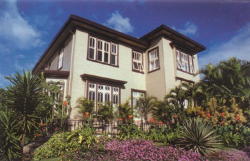 Monday, March 11, 2002 - San Jose - Puntarenas - Pacific Ocean
I got up around 6:00, showered, repacked and went to the dining room for breakfast. Nick, John, Gary and a couple of the other guys were there already. I had a fritata and coffee. A couple of the guys had gotten in the day before and gone white water rafting and they showed us their pictures while we were waiting for Rudy to pick us up.

We packed into the bus and were off. It is a pretty country - similar to many areas of California, but with more tropical influences close to the mountains. There are some lovely homes outside of San Jose, but the majority still have the "typical" third-world Hispanic look - cinder block construction with corregated metal roofs, high fences and bars. Rudy gave a running commentary/Costa Rican Tourism plug during the three hour drive. Some of the highlights - in no particular order:

~ We traveled along the Pan American Highway. Costa Rica is on the Continental Divide - to the left is the non-volcanic Pacific side, to the right is the volcanic Caribbean side.
~ There are 112 volcanos in CR. The last eruption was in 1955.
~ CR is a Third-World country politically, although economically they are much better than that, but they want the label to continue to get foreign aid.
~ There are many ex-pats from the US, Canada and Europe who retire here - houses run $50-75K.
~ There is a 13% sales tax plus a stiff tariff for luxury items like cars, TVs, electronics.
~ Only income above $600/month is taxed, so everyone makes $599/month.
~ Unemployment is only 4%.
~ There is socialized medicine and education.
~ Costa Rica has had no army since 1948.
~ Large Quaker population.
~ Tourism and agriculture are the top industries.
~ Ninety-five percent of farms are cooperatives owned by individuals instead of corporations.
~ There are 115 different types of fruit trees grown in CR.
~ Cashew apple trees produce 80-100 apples per year, each with ONE cashew nut grown on the outside of the fruit. That's why cashews are so expensive.
~ Free Zone Manufacturing areas are set up in farming areas instead of urban areas to encourage families to stay on the farms.
~ Coffee is grown on the volcanic slopes - around 2,500 to 6,000 feet.
~ Smugglers have damaged the exotic bird populations, especially Scarlet McCaws, of which there are only 148 pairs left.
~ National parks make up 28% (19K sq miles) of the country.

We stopped a couple of times along the way to reorganize the luggage and buy booze. We got to the coastal town of Puntarenas around noon, quickly loaded the bags on the boat and we were off.
| | | |
| --- | --- | --- |
| | | |
| | |
| --- | --- |
| | The Sea Hunter is one of two boats owned by Avi Klapfer that travel to Cocos. She is shown on the left in the photo below along her sister ship, The Undersea Hunter, on the right. The Sea Hunter is 115' long and was originally an offshore supply vessel named "Oma McCall", built in 1980 to service oil rigs in the Gulf of Mexico. She was purchased in 1994, and redesigned and refitted to be the "ultimate dive liveaboard" for the Cocos. It took eight months to transform - and she truly lives up to her name. There are two 20 foot fiberglass pangas (boats) that we will use to get to/from the dive sites that can be pulled up onto the back of the boat with an on-board crane for travel. |
There is a large (20 x 20) partially covered sun deck (larger when the pangas are off-loaded), and a huge dive deck down below. There is a ton of storage and a series of cubbies with electric outlets for camera equipment. There is a large salon with couches and two coffee tables, a large TV and stereo, and a separate dining room with five booths. There are four cabins in the front and four more in the back of the boat.

We went into the salon, where we were served fruit drinks while given our welcome and briefing. We were introduced to the crew - Hugo, the captain, Mario, Miguel (who looks like my cousin, Mark H) and Nico (divemasters), Luis (chef), Pedro and Xavier (his assistants), the engineer and Joser and Jose (panga drivers).

We each introduced ourselves - there are sixteen divers on the trip: Nick, Beth, John, Gary, Jeff, Sal; Michael & his daughter Zuzanna from Switzerland; Jim & Paul; Les & Rick; and Bobs 1,2 and 3.
| | |
| --- | --- |
| | |
| | |
| --- | --- |
| | Nine of the divers are using "rebreathers" - it allows them more time underwater with fewer bubbles which can frighten the fish and sharks. |
| | | |
| --- | --- | --- |
| | | |
Three will be diving with Nitrox, a mix of gases that allows increased bottom time at depth, and the rest of us are using air. Nick, Gary, Jim, and Bob 2 all tried to talk me into doing the Nitrox course while we were enroute, but I declined because I am stubborn, obstinate and really didn't want to have to study on my vacation. As it happened, Michael and Zuzanna did do the course between Malpelo and Cocos, so John and I referred to ourselves as the only dinosaurs left diving with mere air - although as it turned out, we all usually came up around the same time anyway.

Mario gave our room assignments and we left to stow our gear and unpack. Lunch was chicken, some sort of vegetarian soy dish (Bob 3 is a vegetarian), rice, salad and fruit. After, I sat on the sun deck and read, watching the coastline disappear in the distance. I finished reading "Ender's Game" and began "Cause Celeb" by Helen Fielding. We will spend 36 to 42 hours crossing to Malpelo.

We had two small groups of dolphins ("delfins") swim on our bow wave. First two and then three others - they are mesmerizing to watch.
Green flash at sunset - although John didn't see it. Dinner was sea bass with veggies, avocado salad, and flan for dessert. Nick brought several bottles of wine on board - I wish I had put more thought into it, as I only packed one bottle. Nick is very generous though and gave me a glass of Chardonnay (a little oaky for my tastes) and well as a glass of St Francis Zinfandel, which I thought was lovely. They have wines on the boat, but nothing special. They do have an uncomplicated Concha y Toro Sauvignon Blanc. Nick said that next time the shop does a big trip he's thinking about having a "wine" option - for a extra charge he'll have wine shipped to the boat ahead of time.

After dinner, we watched the first installment of a BBC program called "Blue Planet" about the oceans. Rick was involved in the production of the series, so he brought all eight episodes with him. The first segment was on whales.

Tuesday, March 12, 2001 - Pacific Ocean
Slept until 7:30 or so - breakfast was at 8:00 - french toast, cheese scrambled eggs, bacon, cheese, fruit, toast and juice. Spent some time up on deck for a while. It rained hard for about twenty minutes, then cleared up. We had a large school - fifteen or so - of dolphins riding our bow wave. Lunch was . . . forgotten! But I'm sure it was good.

More sunning, napping, reading. Green flash again, but I was the only one who saw it. Dinner was steak with mushroom sauce - very good - with rice, veggies, potatoes, salad, with ice cream for dessert. We all watched the second installment of Blue Planet - The Arctic. Went up on deck for a while to watch the stars and look in the bow wave for phosphorous given off by some creatures at night. The waves glow - it's very pretty.

Wednesday, March 13, 2001 - Malpelo, Columbia
Up around 6:15 to see the island of Malpelo in the distance. It is a rock in the middle of nowhere in Columbian territorial waters.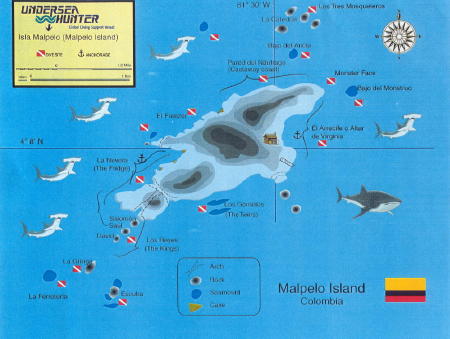 | | |
| --- | --- |
| | Birds, bird droppings and a tiny Columbian outpost station and that's it. Not even any plant life. There is no landing, just a bridge that juts out over the water. We figure that the poor guys that pull duty there must have really messed up big time. |
| | |
| --- | --- |
| | We anchored at a site called La Nevera ("The Fridge"). We ate breakfast and had our dive briefing while they were moving the pangas off the boat. We will dive both pangas - the rebreathers in one panga (Blue Team) and the open-circuit (air and nitrox) divers in the other (Gold Team). We loaded up the gear and the two pangas left for a site very close to the boat. It was a chance for us to check our of gear and weights - good thing since I was under-weighted and went back to the panga to grab another weight. Miguel helped me stuff it into my BC and we headed down. My dive buddy, John, had already gotten down and since the visibility was only about 40 feet, we didn't find each other for the entire dive. |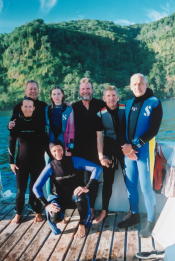 | | |
| --- | --- |
| | I ended up near Nico at one end of the dive site - we saw a few individual Hammerheads ("HH") - two were about 15 feet away - as well as a couple of small schools of a dozen each, both above and below us. I also saw a ton of moray eels - free swimming, in holes, and some just lying on the rocks. The water was cold, but far from freezing, although I was glad I was wearing my 7mm wetsuit. It is, unfortunately, rather like wearing a Michelin Man suit, though. |
We climbed back into the pangas and went back to the Sea Hunter for our surface interval. Now that the pangas are in the water, the sun deck is even larger, so we all spread out and rested and fiddled with our gear until it was time to dive again at 10:30.

The two pangas split up and went to different areas - We went to "Pared del Naufrago" (Castaway Coast). We jumped in and followed the wall along to the left, but the visibility was even worse and we didn't see much. Just as we started to come up, we saw a small group of HH. Other than that, a pretty dull dive.

We had lunch - chicken, rice, soy something, veggies, salad - and then read, napped, etc until our last dive around 3:30. I finished reading "Cause Celeb" - quite amusing. We went to a site called "Monster Face", a sheer wall, with pretty strong current. We saw lots of HH - a school of 60+ - but it was so murky that they mostly looked like pale shark-shaped-objects. If the vis had been better, it would have been an awesome dive, but I got a bit bored staring off into the murk, straining my eyes.
| | | |
| --- | --- | --- |
| | | |
| | |
| --- | --- |
| | We surfaced and as we were heading back to the boat, we came across a large pod of dolphins, possibly the same group that escorted us to the island earlier in the day. We stopped and put on our masks and fins and snorkled around. Again, the vis was bad, but you could hear them crying and calling and echo-locating. They circled around us, and then came right underneath us - I had FIVE of them race by just a couple of feet below me!! Incredible!! One of those moments that I will always remember. |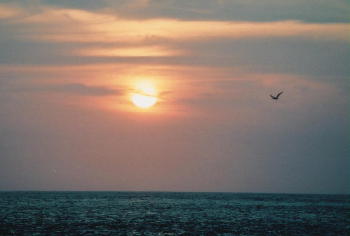 Dinner was mahi-mahi w/veggies, salad, strawberry shortcake for dessert. Episode 3 of Blue Planet - "Open Ocean." Fell exhausted into bed.

Thursday, March 14, 2002 - Malpelo, Columbia
Up at 6:00 or so, breakfast at 7:00. Our group dove on the other side of Malpelo, "El Accecife o Altar de Virginia". Saw quite a few HH, TONS of Morays, huge leather basses, very inquisitive wrasses, some cute little blennies that hide in the rocks. The reef was actually quite nice - a lot of life on it. But some things never change - in the middle of nowhere, there was a rusted ladder and an old tire.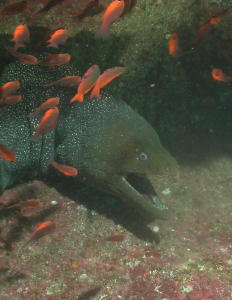 More reading - began "The Web" by Kellerman. Next dive was at "The Fridge" again. We planted ourselves on a rocky outcropping at 55 feet for a few minutes and saw a few HH come relatively close. We stayed for about ten minutes, then moved on - in retrospect, we probably should have stayed put, as the vis was worse and we didn't see any more than we would have there.

Back to the boat - lunch was beef and potatoes, rice and beans, tortillas, salad. Napped for a while, then off to "La Escuba" - a large rock off one end of the island. We were told we would see more morays than anywhere, but didn't. Sucky dive, huge current, tons of surge, poor vis. My arms were hurting from trying to hang on the rocks - I should get a reef hook. I lost John after half an hour - he and three divers went one way, and I got blown off the rocks by the current and continued back with the other four.

Showered and cleaned up for dinner - lasagna, salad, garlic bread with banana splits for dessert. Had some bad California Cabernet - Haywood. Yuck. Watched the 4th installment of Blue Planet - "Deep Ocean". Bizarre critters.

Friday, March 15, 2002 - Malpelo, Columbia
Didn't get up until the breakfast bell at 7:00. Omelettes - yum. Dove the corner of our sheltered cove, "El Freezer". GREAT dive. We found a narrow channel between the island and a small rock and hunkered down in the sand at 70 feet. We had some good sized schools of 20+ HH go past, and some nice close passes by 3 or 4 individuals, just over our heads.
| | |
| --- | --- |
| | We went back through the channel and swam along the reef for a while before heading up. There were several schools of jacks that let us swim right up into them. |
| | |
| --- | --- |
| | |
I am diving with two dive computers - one is my old Monitor II which is integrated into the pressure gauge on my regulator, and the other one is an Aladdin Sport wrist model, that I bought last year for PNG. Dive computers show depth and length of time of a dive, and most importantly, are programmed to determine how long a diver can stay at a certain depth before going into decompression diving. The length of a dive ("bottom time") is determined by the amount of nitrogen in a diver's bloodstream. Decompression diving requires a series of stops during ascent to avoid decompression sickness. Doing multiple dives during a day can affect the amount of nitrogen in your body, so calculating the dive length and depth limits is especially important. Of course, the parameters set into the computer will determine how it calculates the dive times; a more conservative computer will allow less bottom time.

Over time, the dive computers have become more and more conservative - the manufacturers are afraid of the liability potential, and have programmed the computers with greater safety margins. That said, I noted with interest that my newer computer is actually LESS conservative than my older one. On some dives the difference wasn't that great, but on others it was more pronouced: 17 minutes left before deco on the Monitor II versus 24 minutes on the Aladinn. (As it happens, John is also using a Monitor, and since we are diving the same profile, I just used the Monitor for the deco information).

Second dive at "The Fridge" again. This time John and I went directly down and planted ourselves in the rocks at 70 feet. Wonderful showing of HH - several large schools of 20+ above, below and right at our depth. We inched up the rocks to stay ahead of deco and saw more HH - several made very close passes only 5-6 feet away. Rebreathers? Pah! We got just as close.

Lunch was a terrific shrimp and rice paella, with a beet/potato/carrot/mayo salad, rolls, green salad. After lunch I worked on my tan and read. I decided to sit out the last dive - they were going to look for a seamount with lots of morays and the wind had really picked up making it very choppy. Sitting out a dive is always a hard thing to do for fear of missing out on something "big." But they didn't see anything great, so I could breathe a sigh of relief.

Dinner was chicken, rice, rolls, salad, with custard cream puffs with chocolate sauce for dessert. Episode 5 of Blue Planet - "Seasonal Sea". This is one of the episodes that hasn't been released yet.

Saturday, March 16, 2002 - Malpelo, Columbia
Slept in until the breakfast bell again. Fried eggs, toast, biscuits, fruit. First dive was near "El Freezer", starting on the other side of the channel. Saw several HH at first, then worked our way back through the pass. Saw an eagle ray, and John and I got mixed up in the school of jacks again. John twisted around to try to get them to move in a ball, but no go.

Second dive at Monster Face. Tough swim against the current at first, then we found a more sheltered spot to camp out. Didn't see much at first, and I was harrassed by a moray who swam right up and threatened me. I let him have the rock I was on. After a while, a couple of nice HH swam in close, maybe ten feet away. We also saw a lovely group of 7-8 eagle rays swimming slowly just in front of us. We surfaced and as we were waiting for the panga a large mobula ray swam just underneath us.
| | |
| --- | --- |
| | |
Lunch was a kind of beef/veggie mix and a fish dish - very good. Quick nap/rest and back in the water for our last dive at Malpelo. We went back to "The Fridge" - vis was so-so and the water was very cold, but we saw some nice schools. I also saw a couple of non-HH sharks just as we dropped in - probably silky or Galapagos sharks.

Back at the Sea Hunter we had a visit from a small fishing boat just before we left. Tiny boat - cannot imagine being out in one of them. We prepared to leave - the crew got the pangas back up in 20 minutes and we were off on another 36 hour trek to Cocos. We had a round of picture taking up on the sun deck with Malpelo in the background.
| | |
| --- | --- |
| | Dinner was some fabulous fish in garlic, salad, cole slaw, potatoes. It was Beth's birthday and the crew had put up a banner in the dining room for her. |
Nick decanted a couple of bottles of Guenoc Cabernet Sauvignon - very nice. The crew also presented Beth with a birthday cake with candles and we all sang. Dessert was not only the birthday cake (yellow AND chocolate layers) but also a slice of Sal's freshly baked cheesecake - WOW. Sal is a baker by trade, so in addition to the ingredients for the cheesecake, he had brought about 15 pounds of cookies with him - all gone within the first few days though.

Bob 2 brought a DVD of "The Hidden," a supernatural thriller. I decided not to watch and went up on deck to look at the stars and the phosphorous in the bow wave. Occasionally I could see brilliant blooms of phosphorous just in front of the boat - jellyfish, perhaps? There were also several birds keeping up with the boat, using the ship's lights to hunt for fish.