&nbspAFRICA 2007 - Part One
I have been talking about going back to Africa ever since my first trip in 1999. I know that Gary wasn't really keen on it, since he'd rather use our "big" trip each year to go scuba diving, but he promised me that we would go to Africa this year.

I used some of my Virgin Atlantic miles to book free "Upper Class" seats for the JFK to London legs – Upper Class is Virgin's First/Business cabin. They didn't have availability in Upper Class on the London-Johannesburg legs for reward travel, so we purchased seats in "Premium Economy" (between Economy and Upper Class). I also used miles to arrange for limo service between Philly and JFK and back again on the return.

Friday, April 20, 2007
Our driver picked us up in Philly at 3:30 a.m. to take us to JFK to catch Virgin Atlantic flight 26 to London Heathrow, departing at 7:30 a.m. Despite the early hour, it was fine, since the traffic was non-existent and we were too excited to sleep much that night anyway. We had four bags to check including a big padded photo trunk for Gary's tuxedo and my wedding dress – Virgin recommended marking them with "Fragile Wedding Garments", which I did.

After a drive of 1 hour, 45 minutes, we were dropped off at Terminal 4 and went to the Virgin check-in desk. Check-in was a mess – one line for Upper Class, which appeared to be stalled, and the economy passengers were being checked in while the UC line backed up. Finally a supervisor stepped in to pull people from the UC line, and from then it only took 3-4 minutes to get through the process.

We went up to the Virgin "Clubhouse", their Upper Class lounge. The space overlooks the open concourse below, and is very contemporary. It was designed by the daughter and son-in-law of friends of mine. There is a long banquette with dining tables along one side, and some small seating areas with coffee tables in the middle and along the glass window overlooking the airplanes on their stands. We ordered some breakfast – coffee, mimosa and an asparagus/cheddar omelet for me and OJ, croissant and my home fries for Gary. We had a very friendly and efficient waiter, and the food was quite tasty.
| | | |
| --- | --- | --- |
| | | |
No problems through security, a quick peek at the newsstand and no line at the gate when we arrived at B28. Today's plane is "Indian Princess" – under her name is "Air-born August 2003". We headed for our seats, 9A and 10A.

Virgin's Upper Class seats are arranged in an angled herringbone pattern, so that each passenger has their own private space. The seats can lie completely flat, and they have a "mattress pad" and a full duvet and big pillow available so that you can get a really nice sleep, especially on a night flight. Each seat also has a footrest that doubles as an additional seat for a guest, so that if you are traveling with someone, you can eat together, sitting across from one another. There was a "Snooze Pack" on the footrest when we boarded, containing socks, eye shades, earplugs, toothbrush and toothpaste, etc.

Gary said he didn't really like the seats, since you can't look out the window easily and you can't talk to your traveling companion. I told him that we could still eat together and once the plane was in flight, we could get up and go sit at the bar (yes, there's a bar on the plane!).

Once on board, we were immediately offered a drink by our flight attendant (FA), who helped stow my photo backpack in the overhead. The In-Flight Beauty Therapist (IFBT) was around promptly to explain the services offered: they offer one of several hand massages, a neck and back massage and a mini-manicure for their UC passengers, subject to available time. I requested the hand massage, although I asked not to be disturbed if I was asleep.

The FA was around again to make sure drinks were OK and I inquired about sleep suits. Another perk of UC is a complimentary pair of pajamas to change into so that your clothing is not rumpled. They normally have them on night flights but since this was a day flight they sometimes do not make them available. He said that they were supposed to be loading them and would check, but either they didn't make it or he forgot as he never mentioned them again.

The Flight Service Manager (Purser) came on and announced that they were waiting for 20 passengers, and we would be about 10-20 minutes delayed. The captain then came on and gave us the flight details: 6 hours, 30 minutes, departing on the NE runway, making a right-hand turn to the east, then flying parallel to the US East Coast, cruising at 39,000 feet, 55 degrees max, with landfall in the north of Ireland, approaching Heathrow from the north, anticipating a generally smooth flight.

While we waited, I looked around the cabin – there were six seats open in UC. The FSM came back on and advised that the delayed passengers had arrived and we should be departing shortly. She said that the Newark morning flight had been cancelled (VS018, scheduled for 8:20 a.m. departure), so they had transferred some of the passengers up to JFK. Some of the announcements about electronics, flight details, were repeated for the new passengers. Now UC was full.

Didn't noticed the time we took off, but assume it was close to the 20 minute delay we had been advised. The IFBT came around and passed out lotion, pens, mints, and distributed Fast Track passes and landing cards for the UK.

There was a gentleman in a seat across the cabin who fell asleep sitting upright almost immediately upon take-off and snored the entire way across the pond. Not just snored, but SNORED. To the point that people kept turning to look at him even after he'd been doing it for several hours. It's tough to compete with the sound of jet engines, but he managed.

I sat with Gary for breakfast – had a little fruit and yogurt. After, we both went back to our seats and watched the in-flight movies. Each seat has its own screen and a choice of about 60 movies, TV programs, kid's shows, games, and a series of travelers' guides to each of the cities that Virgin flies to. An added benefit is that everything can be started, stopped, rewound and fast-forwarded, so one is not tied to a fixed schedule for the movies. I watched Eragon – ehh. After that I started to watch Night at the Museum with Ben Stiller. It seemed cute but I dozed off.

They served lunch with about 2 ½ hours to go. I sat with Gary again, and noticed that two other couples were doing the same. We both had the seasonal leaf salad with grilled shrimps, white mushrooms and yellow peppers with basil balsamic vinaigrette to start, and the flat iron steak with green beans and garlic mashed potatoes, with cheese for dessert. Quite tasty.
| | |
| --- | --- |
| | After lunch, Gary was fiddling with the salt shaker - the salt and pepper shaker look like little silver airplanes - and accidentally opened it, spilling the salt on the tablecloth. He tried to brush it onto the bread plate, but it was spotted by our FA, who immediately asked if we'd like to take the shakers with us. We said yes, and he got us a bag to put them in, pointing out that on the bottom of the "feet" of each it reads, "Pinched from Virgin Atlantic." I am constantly amused by the sense of humor of this airline. |
We landed around 8:00 p.m., about 40 minutes late, which made us glad that we had decided to spend the night at Heathrow, rather than try to make the connection to Joburg that night, especially after a good fifteen minute walk to immigration. Gary hadn't been given a pink Fast Track pass on the plane for some reason, so I gave him mine – it is a shorter line through immigration for UC passengers.

Since I travel quite often to the UK, I am registered for a process called "IRIS" which is an automated machine that scans my eyes and electronically logs me in, rather than waiting for an immigration officer. I have used it about three times so far, and at most there has been one person in line in front of me. I nipped through IRIS and walked down to Fast Track, where Gary was just finishing.

Down to baggage claim and Gary went to get the bags while I exchanged some money. I had just finished, turned around, and there he was. One of our bags was the first off, while the other three were in the first twenty.

We took the Heathrow Express train to Terminal 4 where we were staying at the Heathrow Hilton. Again, all that business travel pays off, as I used Hilton points for the room. We did a quick check-in, dropped our bags and went downstairs to Zen, the Chinese restaurant in the hotel. I remembered eating there when Maura and I got stuck in London after September 11.

We ordered satays (four kinds), crispy seaweed, lemongrass prawns, pork dumplings and crispy Szechuan beef with fried rice. It was quite tasty.

Saturday, April 21, 2007
I woke around 6:00, then went back to sleep until a little before 8:00. We got showered, dressed and packed, and went downstairs to grab a bite of breakfast. When we saw that the Continental Breakfast was £16.50 per person ($33.00 with the exchange rate) and the Full English was £20.00 ($40.00), we decided we weren't that hungry.

We went back upstairs, loaded up the luggage cart, checked out, paid £6.00 for three credit card calls (grrrr) and headed back over to Terminal 3 via Heathrow Express. We found the Virgin check-in desks and went to the UC line to check in for our 8:25 p.m. flight to Joburg that night.

Just a brief wait, and I asked the agent if there was any room for upgrades to UC using miles. We were directed to the ticket counter, where the agent said this leg of the ticket was booked as non-upgradeable, and we would have to pay the difference in order to use miles to upgrade it. At an additional $1,200 per person, we decided it was too much, so went back to check-in for PE. I did find it very odd that the return leg of the trip is able to be upgraded, but not this one and that Virgin ticket agent said nothing of this when I booked the flights.
| | | | |
| --- | --- | --- | --- |
| | We quickly got our bags checked and boarding passes issued, then went to the Central Bus Terminal which is only a short walk away. We waited about 15 minutes and caught the 11:30 a.m. #77 bus to Windsor. We arrived a few minutes past noon, and walked up Peascod Street to the castle. | | |
We found a little pub, the Horse and Groom, right across from the castle and had a quick bite of fish and chips and a burger. Combined, our check was still less than the Full English Breakfast had been at the hotel.

Admission to the castle was paid and we went through the security scanners. It was a beautiful day, with clear blue skies, everything in bloom and highs around 70 degrees. We walked around the castle grounds, caught the end of the guard change and opted not to wait in the long queue to tour the royal apartments.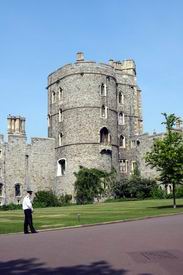 | | | |
| --- | --- | --- |
| | | |
They have several old cannons around the grounds, most of which were confiscated or salvaged from ships throughout the centuries. One the the cannons is from the Lutine, a Royal Navy frigate that sank in 1799, taking with it £1,200,000 in bullion and coin. Some of the gold was salvaged, as was this cannon, recovered in 1886 and presented to Queen Victoria.

The ship's bell was recovered in 1858 from the rostrum of the Underwriting Room at Lloyd's of London. The bell was traditionally struck when news of an overdue ship arrived - once for the loss of a ship (i.e. bad news), and twice for her return (i.e. good news). The bell was sounded to ensure that all brokers and underwriters were made aware of the news simultaneously. The bell has developed a crack and the traditional practice of ringing news has ended. It is now rung for ceremonial purposes to commemorate disasters such as the 9/11 disaster, the Asian Tsunami, and the London Bombings, and is always rung at the start and end of the two minutes silence on Armistice Day.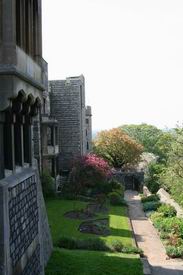 We went to the Chapel, which is home to the burial sites of Catherine Howard, Henry VIII, George VI, the Queen Mother, and Princess Margaret, among others. I also saw the sign that lists the Deans of Windsor and saw the name of our friend Andrew's father, Patrick Mitchell, Dean of Windsor 1989 – 1997.

After we finished we walked back down to the bus stop and the #77 bus arrived a few minutes later. I didn't realize that there is another bus stop a few streets away that is a quicker route back to Heathrow, so we had the extended tour, but were still back to the terminal by 3:00.

There were only two or three people checking in at the Virgin desks, no one in security and the "shoe carnival" (a separate x-ray stop just for shoes) was a quick process. By 3:15, we were happily ensconced on some couches in the Virgin Clubhouse lounge.

Virgin's new Heathrow Clubhouse has been open since last year and words cannot describe it adequately. It is about 25,000 square feet and includes a deli and a café, pool table, library, business center, garden, observation lounge, big-screen TVs, wi-fi laptops, shoe shine service, a huge bar, Bumble and Bumble hair salon and the Cowshed spa complete with Jacuzzi tub.

And everything is free.

This was Gary's first time in the Clubhouse and he just kept saying, "This is unbelievable." He said he would go get us something to drink, but before I could say anything to him, our lovely waitress was there behind him. He turned around and just giggled.

We both made trips to the deli and sampled the seafood antipasto – whole prawns, calamaris, smoked salmon. I tried the pate de campagne – they were out of my beloved chicken liver pate – but this was nice enough. Gary said the "half pint of shrimp" were some of the best prawns he's had. Our waitress kept our drinks topped up and we lounged and read.

At 4:00, there couldn't have been more than fifteen passengers in the whole Clubhouse, although it started to get a little busier as the day progressed. At 6:00 I went to the Cowshed for a facial, which was lovely – I had booked it on-line before the trip, although one can sign up for a treatment the same day if there is availability. We went to the café to have some dinner since I knew the food would be better there than what we would see on the plane. I had a pear and walnut salad to start and the burger. Gary also tried the burger and had a crab/prawn cake to start. The burgers were very tasty and the staff attentive.

We sat for a while longer after dinner, and then walked 3-4 minutes to Gate 5 where the plane, "Bubbles", awaited us. There was a long queue, with no separate line for Premium Economy, so about a ten minute wait and about the same once through ticket collection.

We found our seats, 20A and 20C, and were offered water, OJ or Champagne before take-off. Virgin's Premium Economy seats are about the equivalent of a U.S. Domestic carrier's First Class seats, maybe a little narrower and not as much leg room. They have recently revamped the Premium Economy cabins and the seats are a plum leather with a footrest. There was a little amenity kit with eye shades, socks, toothbrush and toothpaste.

The captain came on and gave us flight details. He noted that we were on a relatively new arrival to the fleet ("Air born August 2006"), and that flying time would be 10 hours, 30 minutes, flying over Paris, Algiers, Chad, Congo, Botswana on our way to Joburg. The FSM introduced the cabin crew, gave the usual announcements about electronic devices and we took off on time.

They came around with meal service and I just had some cheese, while Gary tried the chicken which he said was OK. We each took an Ambien CR sleeping pill and I conked out while watching Pirates of the Caribbean.

I awoke with the breakfast cart next to my seat at 6:40 a.m. Joburg time, an hour and a half before landing. I had the vegetarian omelet with some red stuff that seemed to be tomato based, and some green stuff that appeared to be spinach-based, yogurt and some granola cereal, a peach/banana/passionfruit drink and coffee, while Gary had the Full English Breakfast. Ehhh.

We were due for an 8:10 a.m. landing, but just before we touched down, Gary became sick. I pulled out the airsickness bag and it was quickly put to use. They taxied to a remote stand, and as soon as the seatbelt sign went out Gary headed to the lavatory to clean up. We had to be bused to the terminal, but after that the immigration queue moved steadily and we were at baggage claim within 10-15 minutes. Our bags were again in the first group off. A ten minute queue for customs exit and on the other side we immediately found our Ker & Downey rep. I went to change clothes and we reorganized our bags, taking our two small duffels out and stored the rest of it at a luggage lock-up facility.

The rep brought us back to the International Departure area, got us checked in for our 11:05 a.m. British Air flight to Livingstone and we went through security and passport control – again, no lines.

Gary was sick again, so we found a quiet area with some couches where he could stretch out and get some sleep. Poor thing. In retrospect, we think it was the Ambien, since even though I was not physically ill, I was extremely fuzzy the whole morning, which never happened to me when taking Halcyon as a sleep aid. We are going to flush the rest of the Ambien, since neither one of us wants to chance having this type of reaction again.

It was another bus to remote stand. I noticed a couple of people with Ker & Downey itineraries on the bus so asked them where they were going. I thought they said Chobe Game Lodge.

The flight to Livingstone left a little late due to the air traffic controllers. They served us beverages and a light lunch – I had lasagna – on the hour and a half flight. As we landed, we could see the mist from Victoria Falls in the distance.

We went through immigration in Zambia and our smiling Zambian immigration officer told us that he gave us a three year visa so that we can come back every year for three years with no charge. I think they are really making a push for the tourism dollars now that Zimbabwe has collapsed. We grabbed our bags and met a woman with our name on a sign outside of baggage claim. She took us to a van and she and Martin, the driver, drove us to the Zambia/Botswana border, which happens to be the Zambezi river.
After a rather haphazard immigration process on the Zambian side, we were deposited in a small metal boat and motored across the river to Botswana where we were met by another driver. We got into the truck and were driven a short distance to the Botswana immigration office. More stamping of passports and then the hoof and mouth disease prevention, which involves us stepping onto a wet mat that is soaked in some anti-hoof and mouth liquid and the truck driving into a small pond of it, then backing up for us to climb back in. Odd.

It was a short ride to the Kasane airport where we were transferred to yet another truck to take us to Muchenje. Just as we pulled out of Kasane, we came across a small group of elephants off to the side of the road. It took about 45 minutes to get to Muchenje, and we were delayed yet again by a herd of zebra just before the turn-off to the lodge.

Muchenje Safari Lodge it situated on the Western side of Chobe National Park. They have ten guest "chalets", a lovely open air lobby and dining room and decks overlooking the river below.
Vera, one of the camp managers greeted us and showed us to the dining area where we had some lunch and relaxed a bit. She and here husband Jeff are from Zimbabwe originally, spent several years as managers at a private concession in Botswana and have been at Muchenje for about a year and a half. We arrived about fifteen minutes behind three other travelers – Diana, Roger and Dave – the same ones I had spoken to on the bus to the plane in Joburg! Instead of driving from Livingstone, they flew to Kasane and were then transferred to the lodge.

We were interrupted on our way to our room by Bigfoot, a bull elephant that has taken up residence here. They keep trying to chase him away but it's not working and he keeps scaring the staff.
| | |
| --- | --- |
| | We have room #9, perched on the edge of the cliff overlooking the river plain. It is a lodge, not a camp, so it is a real room with a thatched roof and separate bathroom with a shower, electrical outlets, hair dryer, and a four poster bed with mosquito netting. We unpacked a bit, took showers and tried to catch a nap, but we kept being distracted by the parade of animals that we could see using a path just past our room to head down to the river: impala, waterbucks, kudu, buffalo, elephants, baboons. |
We went up to the open air salon before dinner and talked to the other three guests that arrived when we did. Diana and Roger are a couple from Michigan, and Dave is a friend of theirs from Columbus, Ohio. They are all in their late-60's, early 70's. Diana and Roger were in Botswana on safari two years ago. They will be going to Selinda for two days after that, and then to Shinde, so we will see them for one day at Shinde before we depart for Selinda.

As we sat there, Mocks, the bartender, said that there were three genets looking at us. We looked up at the top of the thatched roof and there were three little faces peering down. Genets are small cat-like animals, looking very much like a spotted cat with a long snout and a long banded tail like a raccoon. We continued talking when one of them shot down a pole next to the edge of the salon and disappeared into the brush. After a few minutes the other two joined it.

Other guests began returning from their game drive – we are outnumbered by Aussies! There is a honeymoon couple, Fiona and Mark, an older couple, Rodney (who looks like Fred Gwynne) and Jane, and a mother-daughter, Pat and Vicky. There were also two other younger men, who we did not get to speak to – they ended up leaving the next day.
| | | | |
| --- | --- | --- | --- |
| | Dinner was served in the open air dining hall: vegetable soup, pork chops, beef tenderloin, rice, potatoes, cauliflower au gratin, and zucchini with apple crumble for dessert. After dinner, a few of us went on a night drive around the concession. We saw wildcats, impala, two bushbabies, a nightjar (a type of bird that nests on the ground), jackal, waterbucks, porcupine, barn owls in their nest and a couple of very loud elephants just before we arrived back to the lodge. | | |