Actually, yes, I have been avoiding you. No, it's not you, it's me. I just couldn't figure out a good way to get back into it, but today seemed to be the right time.

Happy Father's Day.

On April 10th, my wonderful, loving, gentle father went to be with the Lord. While he had health issues over the past few years, he was carefully monitored by his physicians and seemed by in good shape. On Wednesday he had a fever, on Thursday Mom took him to the hospital and Friday morning he was gone. It was very quick and he was not in pain for a long time.

Unfortunately, Gary and I were on a dive boat in the Bismarck Sea off the coast of Papua New Guinea. When I finally spoke to Mom, Dad has already passed and we began the complicated excercise of trying to get back to California. We eventually made it, and on Friday April 17th we had a lovely memorial service for Dad.

We have lots of pictures of Dad. This isn't even a good one, but I thought it was sweet - my father, the non-cat person, and Suki taking a little nap at our house in 2007.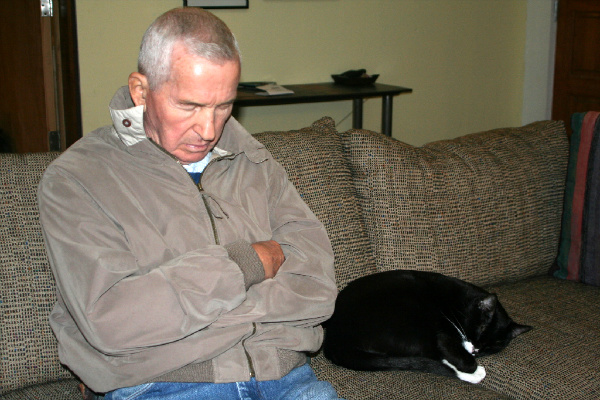 I love you, Dad.
Quote du jour:

"Certain is it that there is no kind of affection so purely angelic as of a father to a daughter. In love to our wives there is desire; to our sons, ambition; but to our daughters there is something which there are no words to express."

Joseph Addison (1672 - 1719) English "poet, essayist, playwright